Punyelroo caves
Big Bend By Night
Swan Reach Hotel
Swan Reach Golf Course
Swan Reach Museum
Bird Watching
Water sports
Paintball Black Hill
Fishing/Boating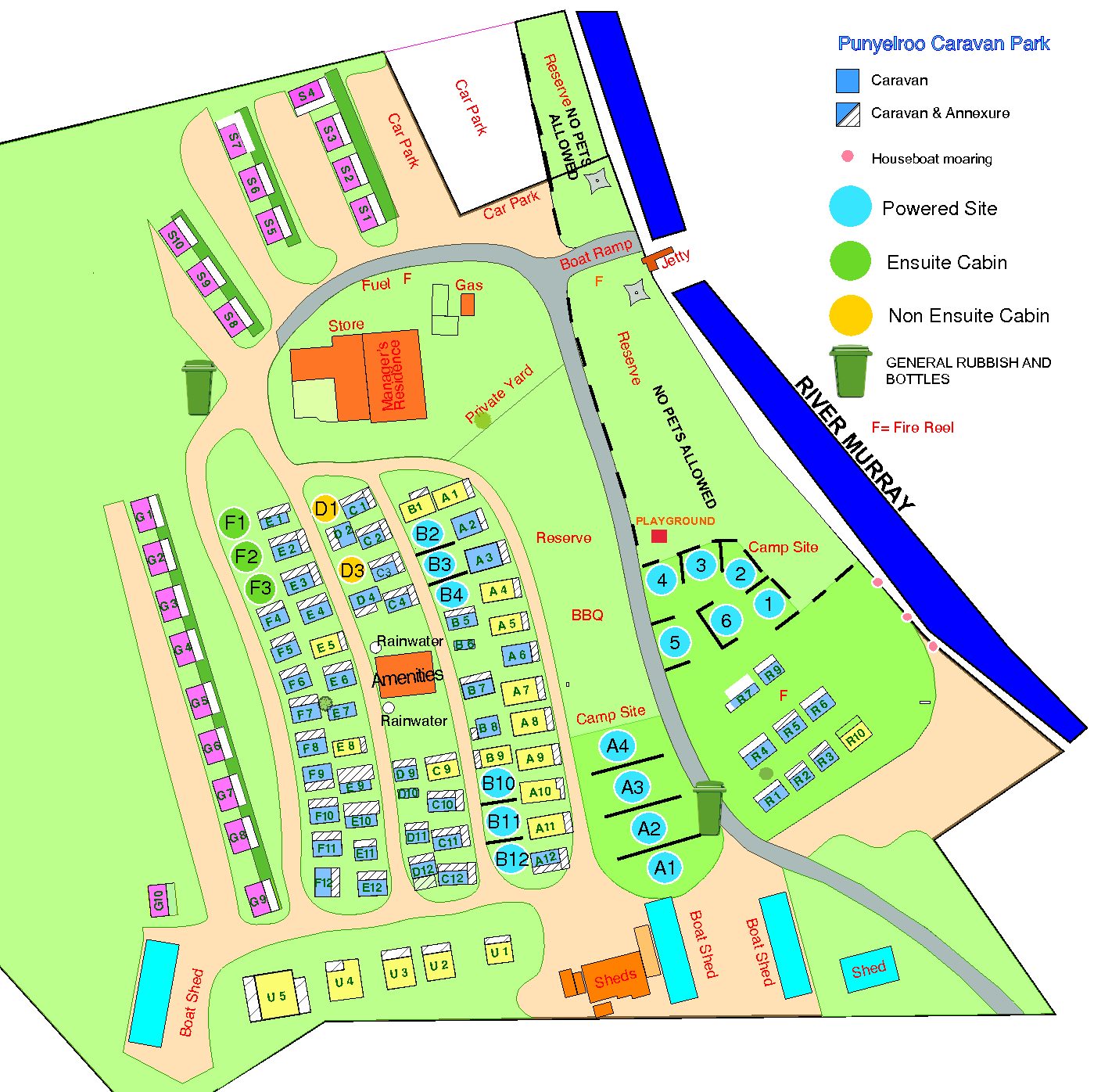 Welcome to Punyelroo Caravan Park.  Punyelroo is such a wonderful place to come stay and we like to make sure that everyone has an enjoyable time. Please see below a list of the park rules.
Please have consideration for everyone in the park.
Music must be turned off by 10:30pm.
No noise after 12:00pm (midnight).
Speed limit for the park is 8km/h. The park is often full with small children and we need to be vigilant that we watch the limits.
Parents are responsible for their children at all times in the park, all bicycle/scooter/bike riders must be wearing a helmet at all times.
No bike riding after dark is permitted.
Dogs
We are a pet friendly park.  Dogs must be kept on a lead at all times in the park. Dogs permitted on river front lawn area between:
Winter (Non daylight savings)
Morning: 7:00am – 9:00am
Afternoon: 4:00pm – 6:00pm
Summer (daylight savings)
Morning: 6:00am – 9:00am
Afternoon: 7:00pm – 9:00pm
Dogs are not permitted on the front bank at other times. All dog poo is to be collected by the owner and placed in green bins.  Excessive barking not allowed.
No dogs are permitted in hire cabins
Visitors
Anyone who wishes to visit are required to pay a visitor's fee at the kiosk on arrival.
$8.00 fee per day per person.
$25.00 per family (maximum family 2 adults & 3 children).
Please make sure you do the right thing and pay your visitors fees. It is paramount to the good management of the park and to monitor visitors closely to ensure the same warm welcoming vibe that everyone loves can continue.  After hour arrivals can pay the following morning.
Visitors who are visiting a guest in the park are not permitted to launch boats/jet skis or kayaks. You must be staying in the park to use the facilities including the ramp. No day trips are permitted.  Please call the office to discuss further if you have any questions.
Campfires
Fires are permitted providing it is not FIRE BAN season or a total FIRE BAN declared day.  Fires are to be in fire buckets to prevent burning lawns and please place fire barrier between buckets and lawn eg; hardiflex /pavers. All fires are to be extinguished by 12:00pm.
Campfires are only permitted in designated areas in a contained fire bucket. No fires on the riverbank or any lawned areas. Firewood is not permitted to be stacked against any dwelling or structure; it poses a significant fire risk and attracts unwanted vermin. Please speak to management if you would like to have a fire at your site.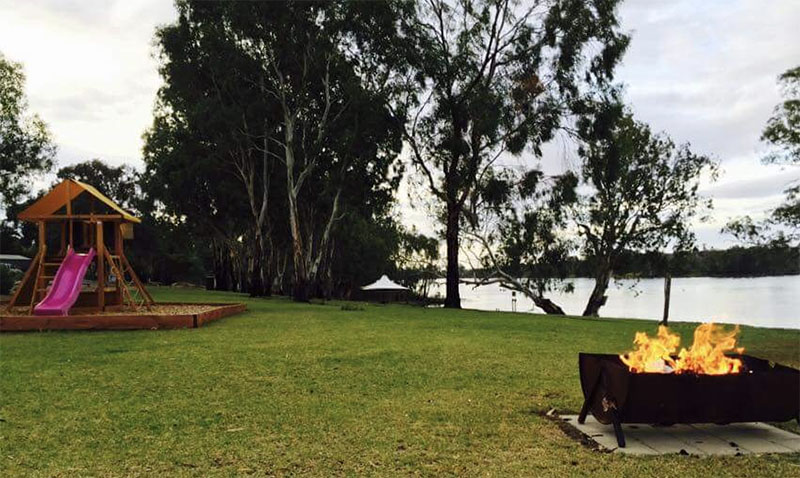 Rubbish
Please dispose all rubbish in the bins provided. Bins are for house hold rubbish only. Any large items boxes, building off cuts etc. must be removed from the park via other methods.
Swags/Tents
A swag and tent is permissible only under roof lines or on a permitted powered and un-powered camping site.  Swags and tents are not allowed to be placed on any other lawned area or between cabins etc.
Car & Boats/Caravans
Vehicles are to be parked in your allocated sites area.  Any additional vehicles or boats/vans must be parked in the area near the river front/boat ramp trailer allocated area. Boats /vans are not to be parked behind or alongside your site.
If all rules could be followed as above, it would be greatly appreciated by Punyelroo Caravan Park Management. Failure of not following park rules may lead to removal from the park at the park owner's/management's decision.
Water
All water in the park including the cabins is river water. Free rain water for drinking is located at the tanks near the amenity block. Alternatively drinking water can be purchased at the kiosk.
ENJOY YOUR STAY!